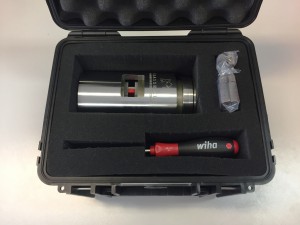 Celanese Compression Test Device GZ C-20
Celanese compression testing device is used for determination of characteristic material values under compression load.
With the testing device, short, long or continuous fibre reinforced thermosets or thermoplastics can be testet as well as unidirectional layers or fabrics, multi-layer structures and sandwich laminates.
The device is used to prevent buckling of the fibre reinforced material. For a specimen length of 110 mm the free lenght is only 10 mm. Strain gauges are applied on both sides of the center area of the specimen to determin (negative) compression extension and bending. According to a principle relying on self-amplification, the clampings of the testing device switch the machines's axial forces into a transverse force to grip the specimen.
Characteristics
Sturdy compression device for static forces up to 20 kN

Design allows switchover between shear loading and end loading of testing forces

Changeable clampings for different materials and fibre orientations

Easy cable passage for strain gauge

Stainless steel design of all components for use in climate chambers (-60 to +150°C)
Accessoires
Clampings cross-, lenghtwise-, transverse- milled or diamond coatet

Angle compensation element

Adapter to all current electro mechanical and servo hydraulical testing machines
Standards
DIN 65375

, "Luft- und Raumfahrt; Faserverstärkte Kunststoffe; Prüfung von unidirektionalen Laminaten; Druckversuch quer zur Faserrichtung", DIN, 1989

ASTM D 3410

, Standard Test Method for Compressive Properties of Polymer Matrix Composite Materials with Unsupported Gage Section by Shear Loading", ASTM, 2016

prEN 2850

, "Unidirektionale Kohlenstoffaser- Duroplast-Verbundwerkstoffe – Druckversuch parallel zur Faserrichtung", ASD-STAN, 1991