US-Plus®
Process Control
Online process control for process monitoring and incoming inspection
Innovation
The innovative online process control GZ US-Plus® enables a non-contact process monitoring for curing control on crosslinking plastics such as composite materials (GFRP & CFRP). The functionality of the online process control is based on ultrasonic measurements. GZ US-Plus® allows statements to be made about differences in curing properties and flow behaviour compared to reference values or other batches as well as about deviations in production parameters. The optimum process parameters can be determined by analysing the measurement data. In this way, the curing times can be minimized, rejects avoided and the quality of the production process documented.
Reliability
The reliability of the test method and its advantages have been demonstrated in numerous studies and comparative tests with other methods such as dynamic mechanical analysis (DMA), dynamic differential calorimetry (DSC) or rheology, both in industry and research. The online process control was developed at the Federal Institute for Materials Research and Testing (BAM) and has been used successfully in industry and research for more than 20 years.
Procedure for the suitability test
Applicability test

Testing the applicability of the US-Plus® technology for the customer-specific material

Preliminary tests

Conducting of preliminary tests on small quantities of material in our accredited material testing laboratory

Rental

Rental of the analyser to carry out on-site measurements for a limited period of time

Purchase of the analyser

Acquisition of the US-Plus® analysis device for incoming goods and process control

The US-Plus® analyser consists of a powerful ultrasonic generator and an industrial computer. The device is used together with ultrasonic probes, which are permanently installed in a molding tool or a heating press. The ultrasonic sensors are connected to the analyser via impedance-optimised sensor cables. A heating press, an I/O module for the tool interface and a temperature controller are optionally available. The probes can be used up to 180 °C in the standard version and up to 250 °C in the high-temperature version.
Application
Features & Benefits
Operation
Further Information
Einsatz in der Produktion, im Wareneingang, in der Qualitätssicherung und der Forschung & Entwicklung
Kontrolle von Transport- und Lagerungsbedingungen (Vorhärtung, thermischer Abbau, etc.)
Erfassung von Fließfronten
Schnelle Kontrolle von Chargen und Mischansätzen, z.B. im Wareneingang, innerhalb weniger Minuten
Direktes Erkennen von Mischfehlern vor der Herstellung zur Produktionsfreigabe
Prüfung von Mischungsverhältnissen
Optimierung von Prozessparametern
Möglichkeit des Online-Prozessmonitorings direkt im Werkzeug
Untersuchung des Aushärteverhaltens durch Messung der Schallgeschwindigkeit
Softwaregestützte automatische Verarbeitung der Messdaten und Vergleich mit Referenzwerten
Isotherme Messungen oder Messungen mit programmierbaren Temperaturverläufen
Automatisierbare Archivierung der Härtungsverläufe
Robustes, langlebiges und wartungsarmes Analysegerät für den Einsatz in der Produktion bzw. im Analyselabor
Anwenderfreundliche Softwareoberfläche
Umschaltbare Oberfläche für Anwender- und Expertenmodus
Vollautomatische Verarbeitung und Speicherung der Messwerte
Vergleich mit hinterlegten Referenzverläufen
Programmierbare Alarmierung bei Abweichungen von Referenzwerten
By means of the innovative online process control GZ US-Plus®, testing services can be carried out on behalf of the customer to investigate the curing behaviour of cross-linking plastics such as composite materials (GFRP and CFRP), BMC/SMC, adhesives (epoxy resins) etc. The services can be carried out on the basis of the customer's order.
For the performance of material tests in the accredited test laboratory (ISO 17025), the customer shall provide sample quantities of the material to be tested. After completion of the testing service, a meaningful test report including comprehensive documentation of the measurements carried out is prepared. The testing service can be carried out for measurements during production or to optimise process parameters (temperature, time, mixing ratios, etc.).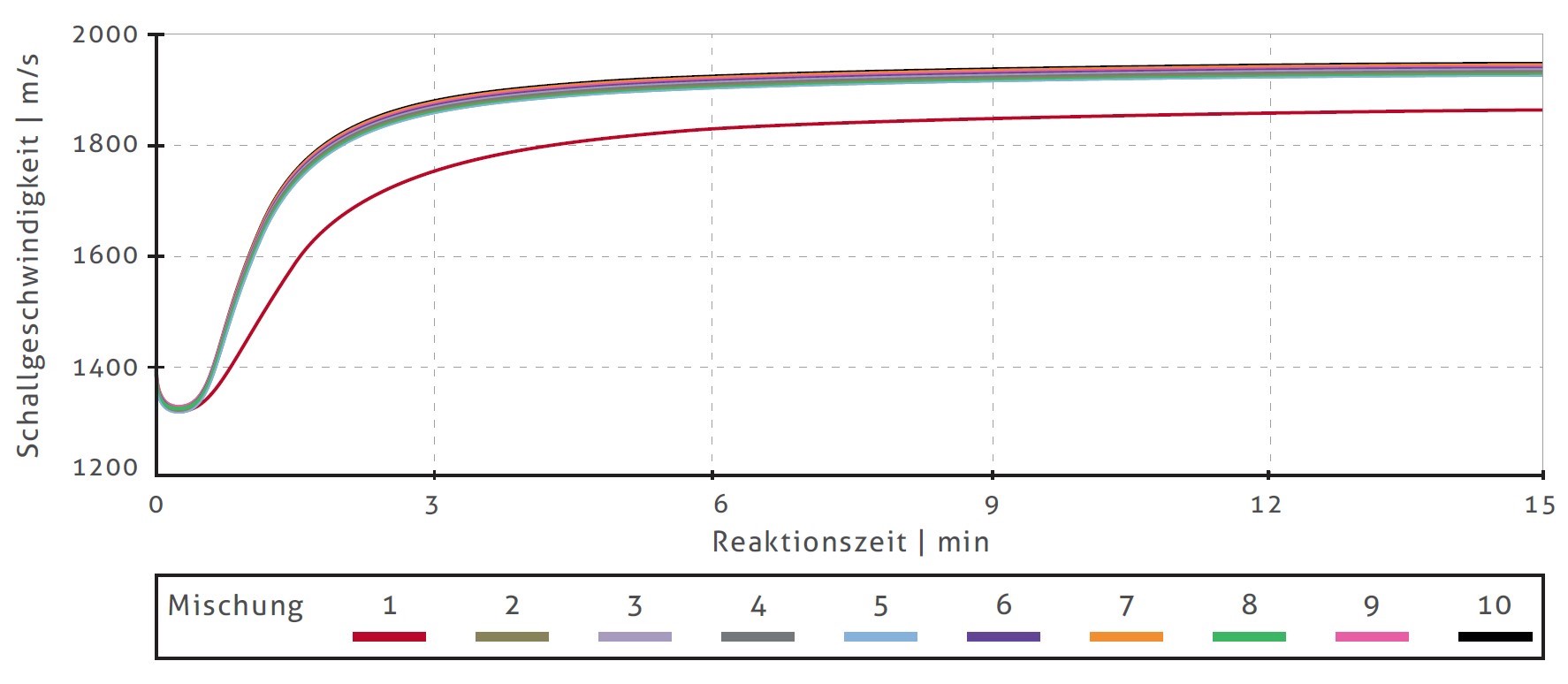 Often the challenges, application conditions and tasks of a process control are very different. For this reason, the online process control GZ US-Plus® is also available as a rental device. The rental unit is equipped with an integrated heating press and can be used both in the analysis laboratory and directly in production. The device can be used for incoming goods inspection, for production release or for optimising process parameters. Detailed one-day instruction of the operating personnel in the hardware and software on site as well as telephone support during the rental period are always part of the offer. If the analyser is subsequently purchased, the rental costs are partly deducted from the purchase price. The minimum rental period is two months.
Please fill out the following form to send us an offer. In case of deviations or special configuration requests, please use the comment field. After sending the test request, you will receive a non-binding offer and further information from us promptly.