New at Grasse Zur Composite Testing
The strain gauge connection kit GZ DMS-2/3 is used together with universal testing machines. It is used to connect the strain gauge of the specimen to the testing machine. For this purpose, a Wheatstone bridge is required to record the small ohmic resistance changes that occur locally in the strain gauge when the specimen is strained. In the universal testing machine these resistance changes are converted into strains.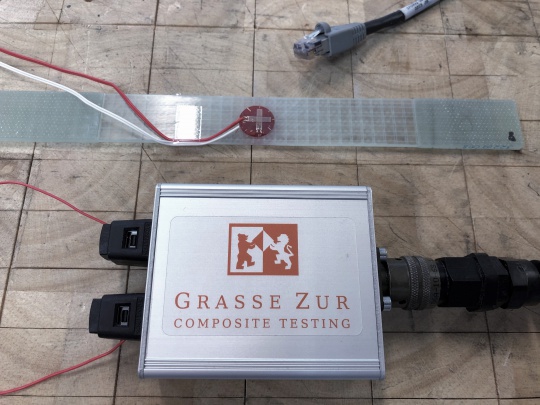 The strain gauge connection kit GZ DMS-2/3 is characterised by a very user-friendly design. It consists of two or three long-life connection terminals for connecting the strain gauges in 2-wire or 3-wire technology, which guarantee reliable contacting of the strain gauge conductors. The cable to the testing machine is connected to the strain gauge connection box via an Amphenol socket. For the Wheatstone bridge, high-quality and selected supplementary resistors are used. The strain gauge connection box is attached to the frame of the universal testing machine via magnetic feet.